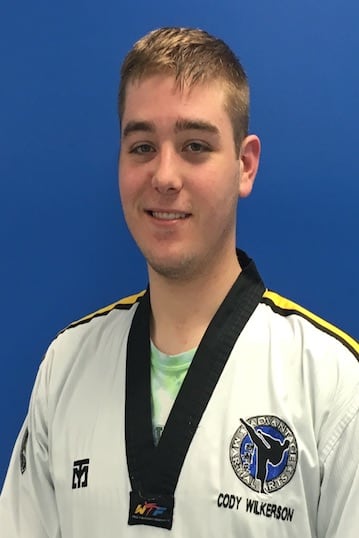 Cody Wilkerson
Rank: 1st Dan Black Belt
Favorite Activity in Martial Arts: Forms practice
Favorite Technique in Martial Arts: double jump kick
Favorite Music/Musician: Country music
Favorite Book: Maze runner series
About me: I love to camp especially in the winter. I have two younger brothers. I have a dog named Garth, he's a German Shepard. I graduated from Kearney high school in May of 2013. Then I attended maple woods community college for two years. And I am now currently attending Northwest Missouri State University for my bachelors degree in elementary education. When I'm not studying or working I usually like to hang out with my friends or watch Netflix.
I admire: I admire the teachers that I have had throughout my education. Putting up with all of the stuff we did as kids could not have been easy and it's just amazing the level of effort that teachers put into their work even though it may not even be required or necessary.
My goals: my goal in my life outside of TKD would be to become a science teacher. I have known that I want to do something in the field of science since I was a little kid and recently decided on teacher because I love to teach people things. My goals in TKD are first and foremost to make sure that our school is the best around. Whether that be in technique or in publicity. My second goal in TKD is to become a master. When I was a younger TKD student I dreamed about becoming a black belt and now that I have achieved that goal I want to not only better myself, I want to better the school.